Transform Ugly Old Bathrooms, into
Stunning New Bathrooms
Get Estimate
Erminio "The Tile Man" is Rochester's Best!
The times have changed. New tile installation is no longer limited to just functionality and resale purposes. Changing your bathroom or kitchen tile opens the doors to all new world of creativity. And it's not just for kitchen and bath; professionally-installed tile can transform the style and feel of any room in your Rochester home.
---
What Can Deangelis Tile do for Your Home? What Can't We Do?
Transform the look of that old, outdated bathroom
Give your dream kitchen a stunning new appearance
Add beauty and elegance to your shower, bath or hot tub
Enhance and protect your kitchen with a bold new tile backsplash
When your old tile needs to be rescued, call the Tile Man!
At DeAngelis Tile in Rochester NY, we provide full-service professional tile installation, and are proud to serve the entire Rochester and western New York region.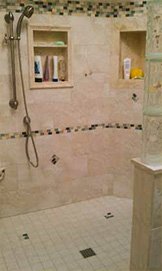 With over 30 years of professional tile install services, The Tile Man team has the experience, vision, and talent to transform even the most lifeless rooms, into breathtaking tile masterpieces that will amaze and impress, while adding comfort, style and personalized character to your home.
Professional Tile & Home Remodeling in Rochester since 1982!
Renown for our Versatility, Innovation, and Attention to Fine Detail
We do Bathroom, Kitchens, Foyers, Patios, Cabinets, Walkways & more!
Fast & Guaranteed Written Estimates
Strong Emphasis on Quality, Craftsmanship & Meeting Deadlines
Low Overhead Helps Us Offer the Lowest Price for Tile Service
Easy Access to the Company Owner, for Exceptional Service
Ready to transform your home, with a gorgeous new tile makeover? Have an idea you'd like to run by an industry leader? Something special maybe? We can't wait to bring your vision to life!